June (Simeonoff) Pardue is an Alutiiq/Sugpiaq and Inupiaq artist originally from Old Harbor Village on Kodiak Island. Currently a resident of Sutton, Alaska, she works in a variety of mediums, and is especially known for her Alutiiq grass weaving, fish skin tanning, fish leather and sea mammal skin sewing, jewelry, and beading. Examples of June's work, such as beaded headdresses and grass socks, are in permanent collections of several museums nationwide. She has taught and demonstrated weaving, fur sewing, and beading in university, museum, and school settings. June is also an Elder Culture Bearer, instructor, and storyteller with the Knik Tribal Council. A motto that June's parents instilled in her is this: "Remain teachable, we don't know everything, and there is something to learn every day."
The following is a interview that took place on November 14, 2021. Students involved in the group project (Jaidin McQuain, Gail Fitka, Jennifer Scroggins, David Glover, LaToya Olszak, Madelyn Hoefer, Sharon Aubrey, Amanda Kurka, Donna Bezold, and Liam Floyd) generated the questions asked.
---
---
---
Transcription of Interview with June Pardue, 11/14/21
(June Introduces herself to the group)
So, I'm June Simeonoff Pardue, and my Native name is [______]. My mother is Sophia Jane Johnson. She was born in [->6:49_________] Reindeer Camp. My father is Jacob James Simeonoff, Sr.—his Sugpiaq name was [_______], which means "Eagle." And he was born in [->7:01_________] Village. Both my parents' villages no longer exist. They might—you might be able to find them on the map—but they don't exist anymore.
I grew up traditionally on Kodiak Island; so, a couple of the villages that I lived in did not have a regular school like we do today, so I was taught by my Elders—mostly the aunties that were in [->7:29_______] Village and in [->7:30_______]. My mother—I'm just so blessed that she knew things about her heritage. She was born Inupiaq and adopted into a Yupik family, and when I visited my relatives up there, in the Norton Sound, I got to see Native—the Native way of life, as far as women and men working with their hands.
When I moved back to Old Harbor Village on Kodiak Island, and when I was in [->8:05______] and [->8:06_______], I noticed that the Alutiiq people were not working with their hands, and working with skins, or fur sewing, or even beading. The women wove grass baskets that came from the ocean, but—from the sea, from the beaches—but that was just it. And because of my exposure to the relatives up north, I just thank my God, my Creator for that, the heritage that I have there, and for the yearning deposited in my heart to…find out as much as I could about my Sugpiaq heritage. And that's how I became an artist—I was just curious about…that, and wondered why women weren't doing anything with their hands except for just weaving.
[Gail:] Thank you. That's interesting, and I really appreciate you introducing yourself in your language, so, yeah…thank you. So, I guess we'll begin with the questions here, so—is everybody agreeing at going through—by the list, the names that are on the form that Sharon or Amanda had sent? Okay…so we'll have Amanda go first with the first question, then will be Sharon, LaToya, Jaidin, Liam, Donna, myself, and Madelyn, so we'll stay in that order. Okay, so she'll start.
---
(Group begins to ask questions prepared for June)
[Amanda:] All right, so our first question is: what was your first piece of artwork that you created and how old were you?
[June:] I was about twelve years old—just before 12 years old, because I remember that during the earthquake and tidal wave of Old Harbor in 1964, I was worried about the basket that I had woven. Well, it—it was lost in the tsunami that we had. I first wove a grass basket over a Darigold can of butter…and you can't find those cans anymore. They don't—they don't make butter and put them in cans and ship them to Alaska like they used to do, you know, when I was just a…just in my preteens. And I was taught by—my mother was learning to weave the Alutiiq baskets from Fedosia Inga who was the weaver in Old Harbor Village on Kodiak Island. As a matter of fact, on the whole island she was the queen weaver.
[Sharon:] The second question that we have is, was there any particular inspiration which prompted you to become interested in basket weaving, beading, and skin sewing? I know you had introduced and said you went up north, but could you elaborate a little more?
[June:] Well, as far as the basket weaving, it was with Fedosia Inga, and I was very curious when my mother was beginning to weave the Alutiiq baskets, because she threw her scraps on the floor, and she always took me along with her when she was going to her classes with Fedosia Inga, and Fedosia lived, like, about, you know, just three houses down from where we were, and I was just fascinated with it. I think that I'd like to, you know, say that I just have a natural gift for picking up any kind of art, and when I saw Fedosia teaching my mother, I picked it—she could tell that I was learning while I was observing her teaching methods.
And as far as beading goes, we never had any beaded headdresses like you see here [shows headdress to the camera], and all I ever saw were examples when I was just really young and traveling through the Alaska State Council on the Arts when I was even, you know, in my late 20s and early 30s, I saw examples of beadwork—Sugpiaq beadwork—in museums. And I became very, very curious about it and wondered why Sugpiaq women were not beading these beautiful headdresses. The first one I attempted was really, really difficult for me to make, because I didn't have anyone to teach me, and I just had to struggle through it. Since then, I have several headdresses in museums, and I take orders to make them. Hundreds and hundreds of hours of work, because I like to use the small beads.
As far as fur skin sewing goes, my mother got sick with tuberculosis, and back in the day, she'd had me, and I was the oldest daughter, and two other daughters, and a son, and when she got sick with tuberculosis she was pregnant with the youngest daughter, and she was sent down to the Tacoma, Washington sanitarium for TB patients. And usually when people were sent down to Tacoma, they were…they were the real…they were ones—they were patients that were not expected to come back. Well, my mother lived through the ordeal, through her pregnancy, and during that time I was sent up to Saint Michael to be with my grandparents, and then I traveled from there—by dog team, by the way, in the winter. Grandpa took three of us kids from Saint Michael over to Emmonak, by dog sled, to where we ended up living with Auntie Pearly[sp? 14:40] and Axel Johnson[sp?], and it was there that I saw someone make my very first mukluks, and my very first parka.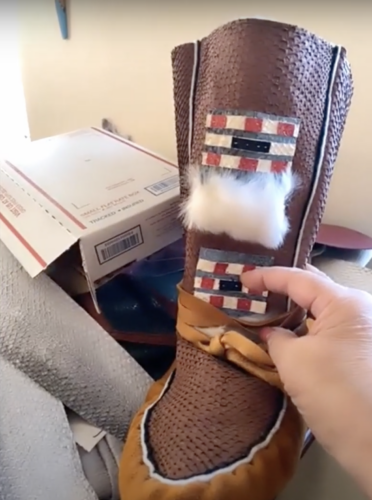 And I was just fascinated with that, and I can remember my Auntie Pearly telling me, "When you pee, you pee in that pot right there, and then the other one, you do number two in." And what she did—what she was doing was collecting children's urine, so that she could tan the skins for making our clothing while I was living with her. It was after that, you know, my mother got well, and we ended up going back to Kodiak Island and living in an Old Harbor village and going back and forth between there and Kaguyak; that village was destroyed by the 1964 earthquake and tidal wave.
And, when I was as little as I was, and as young as I was, I wondered, "Why—why are my relatives not doing anything with their hands?"—or my dad's relatives are—and yet my mother's Inupiaq and Yupik families were skin sewing. And that was when, you know, when my eyes were first opened to skin sewing, and I always wanted to—because I admired my aunties: I wanted to skin sew like they did.
[LaToya:] Okay, so you answered a portion of question three; I'm going to ask a portion of question number four—do these techniques help you feel closer to your ancestors?
[June:] They make me feel closer to family and my remembering who they were, you know, but…when, I believe that when people die, they're gone. Traditions and cultures stay alive.
[LaToya:] And that answered the kind of the spiritual connection in the techniques, where the culture—like you'd mentioned—the culture is still alive, even when people die, they die, and I love that answer as well. Who's up…Jaidin, go ahead and ask the next one.
[Jaidin:] Yeah. So, while growing up and participating in basket weaving did you ever consider that, along with other cultural art mediums, would open the doors that got you where you are today?
[June:] I can't say that it was other cultures, and studying anything that they have—what really got me to where I am today was…there was a time in my life when…this is, this might be difficult to answer, where I ended up. In a hospital in Anchorage, with a pregnancy, and it was during that time I lost my home and a husband, so…I ended up taking a trip down to the gift shop in a wheelchair, knowing that I needed to earn some money while I was in the hospital, because when I got out of the hospital I needed somewhere to stay. And I needed to get my two daughters back. So, I think it was out of desperation? And I believe that my Creator placed me in a—you know, in that hospital, so that I could…knowing that the yearning I had my heart for culture and art and weaving, I would wheel myself down to the gift shop at the Alaska Native Medical Center to study the baskets that they had there.
And it was there that I heard my very first constructive criticism. You know, there was that…Karen…oh, I can't remember her last name, but…Karen—Karen was in charge of the volunteer work that people did at the Alaska Native Medical Center's gift shop. And when I went down there with my first basket—it was pretty…lumpy looking—and she gave me tips on how to weave. This is a non-Native lady. And she gave me tips on how to use my weft and waft to produce a clean-looking basket.
[Jaidin:] Thank you for sharing such a personal experience, on that question…Liam, could you ask the next question?
[Liam:] Yeah, absolutely. So…you work in a variety of mediums—do you have a favorite, or one that you prefer over another?
[June:] Well, it used to be the basket weaving—it was always my favorite, when I was younger. And as the years have gone by, my hands hurt, and then my neck. So it's not my favorite anymore. My favorite is beading, especially the big beading like I'm doing right now, and—oh, I just want to show you the salmon skin that is on here. So, incorporating, you know, material like this, so that I can end up with a beautiful, unique piece of art—wearable art. I like skin sewing, but that is really hard on my hands, now that I'm 70 years old. So, beading is my passion right now.
[Liam:] Very cool. I think…Donna, I believe you are up next.
[Donna:] All right, so question six and question seven I think are the same questions, so I'm going to read question eight, and it says: what are some advantages and challenges involved with working with each medium?
[June:] Well, the advantage that we have today is technology. So, if I'm curious about skin sewing, or beading, I can get on the Internet—as a matter of fact, the day before yesterday, I emailed Dawn Biddison at the Alaska Study Center, or the Smithsonian Study Center in Anchorage. She's located at the Rasmuson Foundation. And I asked her to email some good images of Alutiiq skin sewing with fancy embroidery stitches, because I have launched a big project where I'm skin sewing a fancy snow-falling dress using salmon skins, rather than fur. And the embellishment that I need to do on it is going to be with salmon skins and threads, and Alutiiq embroidery.
[Donna:] That sounds beautiful.
[June:] So, the challenges are my age and my eyesight. Okay, so.
[Donna:] Thank you—thank you for answering our questions.
[Gail:] Okay, for question number nine: what is one artform you have always enjoyed but never tried yourself?
[June:] Let me see…oh! Hard-sole mukluk making. I've never tried working with making the soles. And I don't think I ever will do it. I do enjoy it, though—I enjoy looking at it. I enjoy the art—I enjoy looking at the pieces that I see people wearing and in museums. But I know that I will never try it. We as artists don't need to be making everything; we can enjoy art.
[Gail:] Thank you.
[Madelyn:] I think I'm up to ask you a question. Are there pieces that you've worked on with family members, such as beaded head garments…your granddaughter was wearing in the photograph?
[June:] Yes. As a matter of fact, we just got a phone call, and an email, from the Alaska Native Heritage Center, and they're having my granddaughter Destiny pick up a headdress that she made while we were at the Alaska Native Heritage Center a few years—you know, about three or four years ago. And I—she mentored under me, so she was my apprentice, and she learned from me how to make the beaded headdress. And then I also have a granddaughter Karina and with the Pinquat Project, through the Alutiiq—through the Alutiiq Museum, she got to help with the headdress, and then the beaded cuffs and a beaded stole that are in their permanent collection now. We—it was a community group—oh, I think there were like ten or twelve beaders, and the whole idea for them having us to replicate a headdress, and the cuffs, and the stole, that Alphonse Pinart collected in the 1800s…the Alutiiq Museum wanted me to teach people how to look at an object and to rebuild it.
So, I had like about…oh, a dozen people working on all of those pieces. So the Alutiiq Museum does have a headdress that everyone worked on, but…let me try to explain this—if we take all of you, students, and I'm teaching you how to knit a pair of socks, you will all have your own tension, and your learning stitches, and then you're going to end up with a product that's not…museum quality, right? So, everyone was learning. They were all working on one headdress, and it went from hand to hand, person to person, and in the end, it turned out beautiful, but there were strands of thread that were not tight, or the knots were not tight, so I rebuilt the entire thing at home, too, so. And that was part of the project, was for me to make sure that we had a museum quality piece that the Alutiiq Museum would have, that replicated that headdress the Alphonse Pinart had collected.
And Karina—my granddaughter, Karina—did all the counting for every single bead that was put onto the headdress, and then she also helped me with the counting and putting together a pattern for the headdress, band by band, from here to here [shown on camera], and then from here to here, and then the panels in back, and how to connect them to the bands that were on that headdress. So, yes, I do have grandchildren and family members who do help me.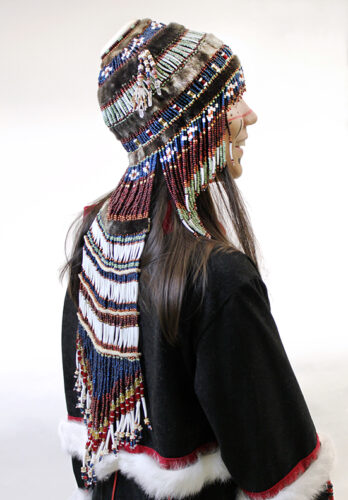 [Amanda:] All right, I think I'm asking the next question; you might have already answered this one. What new artistic passions or mediums do you see yourself exploring next and why?
[June:] Well, I think I answered that one, with the salmon skin that I'm working with. I'm building a salmon skin garment—so I have all the panels sewn, I just need to cut them out for the sleeves and for the garment. And I think the part—the pieces that are going to take a long time for me to make, are going to be the front panel in the garment—which would be here [gestures on camera]—and then on the cuffs, and then on the collar. So if you were to study and look at the pictures that I have…as a matter of fact, Will Anderson—who used to work for Koniag, Inc.—took wonderful, wonderful pictures of examples at Kunstkamera Museum in St. Petersburg, Russia. You know, we all traveled over there to study the baskets, but I was very much interested in stitchery, and embroidery work of the Alutiiq and the Unangax̂. So he was able to send those pictures last week, and the week before, and last night—the night before last—I received a whole bunch of photographs from Dawn Biddison, who is managing the Smithsonian—the Arctic Study Center in Anchorage. So that's going to be a really big challenge for me.
[Sharon:] That sounds like an amazing project, June. I can't wait to see what that looks like when you're finished! The next question that we have is: what are the different types of animal skins that you have worked with?
[June:] Let's see. I've worked with…hmm…how do I do this here. I have some—let me pull this out—I have deerskin soles, so these will be soft-sole mukluks that I'm working on right now. And mixed with salmon leather—salmon skins—here…Rex rabbit…and then, this fancy stitching is our designs that were inspired by the Etholén Collection. I've got—all I have is the book, I've never been to the museum—and in that book, they have Sugpiaq boots, and that's how I got this inspiration right here, for the fancy designs that I'm putting on these soft-sole dance boots. So that's deerskin.
I have, over here, my salmon skins that I'm selling and putting together for—and here's a piece that I tanned—and then I've got these panels that I'm sewing right now, together, so that I can put the dress, you know, put it together. And then I've also worked with—I think I made a black bear pair of mukluks for someone…oh, a while back. I've worked with elk hide, and…bison hide. So, there's different kinds of leathers—pigskin, even. So there's different kinds of leathers that I have—and furs—that I've worked with.
Beaver hats. We have to make a lot of beaver—we've had to make a lot of beaver hats and mittens for family members, as my husband and I have two daughters, and we have five adult grandchildren, and now we have nine great-grandchildren. Last Christmas, we had—between my husband and I—we had made three full, adult-size canvas boots. And the pattern didn't come from anywhere; we had to make the pattern ourselves to fit each foot. So they're custom-made canvas boots. And then we made beaver mittens for five great-grandchildren.
So…hats. I think we've made beaver hats for every one of the grandkids that we have. And I've made regalia—dance regalia—for family members. I can't remember how many…gosh [laughs]…headdresses I've made, too—I never kept count. You don't when you're making them for family, you just make them and give them as gifts.
[LaToya:] Are there…are there any that you prefer…or, let's see. Are there any mediums that you prefer working with over another type of skin? Or is that a question that you've already answered before?
[June:] I answered it because I like working with all furs—whatever fur's available and comes into the house, from ermine skins to Rex rabbit, and seal skins. Even bison hide, you know, which is not—non-native to my culture. But I find it beautiful to sew through, you know, because it's—the pores in it are so big, so open, that it's easy to slide needles into—especially a beading needle—through that type of skin. Deerskin is really hard to put puncture through, especially if it's commercial tan, because pores are so tight.
[Jaidin:] Okay, I'm not entirely sure if you answered this one, but—what led you to do artwork using the fish skins?
[June:] Oh, the fish skins! Oh my gosh! I had been visiting museums, you know, I was invited as an artist to visit museums since I was in my late 20s, early 30s, as, you know, an artist-in-residence. And when I—whenever I visited the Sitka Museum, the Sheldon Jackson Sitka Museum, I was exposed to fish skin baby mukluks, fish skin garments, on dolls, fish skin…oh, goodness…kakiwik sewing bags…fish skin parkas…fish skin bags, fish skin bags, fish skin bags. And all of those salmon skin articles had beautiful stitchery on them. And because I was curious about it, I started experimenting with tanning salmon skins, and there was one year I was…in 2000—as a matter of fact, when the Heritage Center opened—tourists were just flooding in. And I think all the artists were kind of, like, wanting to capture the interest of every tourist that walked into the building, because that's how we make our money—we sell to tourists during the summer months, and live off of it—just like my father did, when he was a fisherman—you live off of that money almost all winter long.
And there was this one time that I was seated right up front, where the door entered, and I thought, I got—I can't have these people just walking past me to hurry to get into the building and downstairs, where the dancing took place. So I took out some—I told my husband, I said, "I'm going to start tanning salmon skins." I had no clue—I had been asking people, "Do you know someone who tans salmon skins?" And the answer was, usually, "No, we don't know anybody—but, my grandma did this, she used alders" [laughs].
And so I had no clue what I was going to be doing. I was floundering. And, one day, there was this man who came up to me, and he was from Mississippi; he came to me at the end of the day, and he said, "Oh, my gosh, ma'am—can I share something with you?" He goes, "I saw you working and working with those skins; I want to share with you my grandpappy's recipe for tanning snake skins." He goes, "I did that when I was a little boy." So he shared that, his technique with us. But over the years, Charlie—my husband, Charlie, who's Gwich'in—Charlie and I were never satisfied with that, because we had to take alcohol and glycerin and dump it somewhere. And, you know, with our Native values, we were raised, and it's ingrained in us, that we love our Earth, we treat it well. We want to keep it clean. And…using that recipe just didn't cut it for us.
So we started really digging into asking people, "Do you remember? Do you remember how they tanned salmon skins?" And this one year, we were invited to Chalkyitsik Village, where his great uncle lived—this was his great uncle, David Salmon —who'd invited us to be there with him for a couple years, so my husband mentored under him. And while we were there, my husband asked David Salmon [the Chief], "Well, what about tanning salmon skins?" And, he said that he remembered the Gwich'in made dog packs out of dog salmon, and…but they did it "back there," and with willows, but—it wasn't his job, or men's job to tan salmon skins. That was a woman's job.
So here we were. We were stuck again, with no recipe, or instructions on how to do it. So we started messing around with using willows, and came up with a recipe. Today we have a really wonderful way of using willows. In the early spring, when the shoots are coming out of the ground, and all the nutrients are being pushed up the branches—you know, from the earth—and…it's soft. The branches are soft; the shoots are soft, early in the spring. And so, we cook that down, boil it down, for—and let it sit overnight for the tannins to be extracted out of the willow bark. And…it works. It really does work.
You know, and with our experimenting, we've discovered, you know, looking for natural dyes. One year, we were…had some beets that we planted out in our garden, and we took a couple of beets, and then I went and bought organic ones. And we used the peelings to add burgundy red to the dye, and discovered that by using beet peelings—which have tannic acid in them—that we were able to come up with a really nice, soft tanning solution. Big challenges. But always keeping in mind our Native values, with honoring the air, and the earth, and keeping it clean, you know…there's a reason why we have these guiding values, that were given to us from our ancestors.
[Liam:] That's really cool. Out of—just out of curiosity, I know you'd mentioned a few timestamps in there, from when you'd initially started considering using the fish skins, to when you had a finished result that you were happy with…what was the general time frame for that?
[June:] Oh, about 20 years.
[Liam:] Wow.
[June:] Yeah.
[Liam:] That must've been a really—a really nice payoff [laughs].
[June:] Yeah, it was. You know, and very interesting, you know, how people come into your life. And I believe that, when—there's a reason for us to have people come into our lives. It was just before the pandemic: I took a trip down to…I can't remember if it was Old Harbor Village, or Kodiak Museum…and then we took a trip to Old Harbor, where I taught salmon skin tanning, and skin sewing, and Alutiiq embroidery. And while I was down there—and it was a long working trip—you know, it's tiring when you have to go to a village, because you're not in your own bed, you're not in your own home, you're eating on somebody else's schedule. So it's very tiring. And then teaching on top of that.
Well, I was tired, towards the end of my two week stint, and…I get this phone call from my husband. And he goes, "Oh, by the way, this lady called for you, and she's going to be in Anchorage on such-and-such a date—the day you get back from your trip to Old Harbor and Kodiak—and she wants to know if you can meet with her at the…you know, get off the plane and go have lunch with her, at the Rasmuson Museum." And I thought, "Oh, my God—not another interview where people are just extracting stuff out of me, and, you know—I do, I get a lot of that. You know, people calling me—"How do you do this? How do you do that?" And then, you know…[laugh]…and this has been many, many years of this happening.
And then I—nowadays, I look on Facebook, and I go, "Gosh! I gave that recipe to that person," or "I gave that pattern [laughs] to that person"—"I told them how to build this headdress." And…they don't even mention, like, the old-time ways, you know, like, we're supposed to say, "My credit goes to Fedosia Inga and my mom, who—and my aunties—who I mentored under." And nowadays, it's not—it's not like that, you know, and so I was thinking, "Oh, no—here's another person who wants to…just extract information," you know? And, "What do I do?" And I was tired, and I…you know, had some quiet time flying, and I thought, "You know, there's a reason why I'm supposed to connect with her." It was like a correction in my soul, you know, that, "Meet with her. Meet with her."
So, when I got off the plane, my husband picked me up and drove me to the Rasmuson Foundation, and, you know, the restaurant was open there, and she bought me my lunch, and it was quite delightful meeting. And, come to find out, she was very, very curious about salmon skins and whatnot. And she goes, "Can we please, please, June—in a couple of days—" She goes, "I need to fly back to Italy—can we, can you come back and meet with me, and let's tour the Arctic Study Center, and let—to let them know to pull all the fish skin articles, so that we can look at them and study them." And I thought, "You know, this is really a good chance for me to do that—I've been wanting to do it for a long time."
So we did. Two days later, we met Dawn Biddison, who arranged for all of that for us. And we looked at, you know, salmon skin parkas and whatnot. And then she—Elisa Palomino, you could Google her name—she left, and then…the pandemic hit. And it was like, "Oh my God"—you know. And I had all of these fish skin…visions in my head, of, "What can I do with them?" "Oh"—you know—"I want to make this; I want to make that…I want to do things with fish skins." And all this time at home, you know…and I told my husband, I said, "You know what's going to happen—we're not going to have an income. We need to think this through—what are we going to do to have money coming in? Because we're both artists. There's going to be nowhere for us to sell for a while."
And then one morning, I woke up at 3 o'clock in the morning, and I thought—for some reason—I thought of Elisa. And, as far as I was concerned, she was an acquaintance, but she—there was something about her that struck me as…she's a special, unique person. And so I sent her an email: "Elisa?" That's all I asked. I was curious—Italy, you know, where all the deaths were happening. And then she texted me back, and she said, with a question [mark]: "June?" [laughs] You know, and I was so happy and relieved that she was still alive—you know, we were all in lockdown, they more seriously than we were.
And…I, you know, I asked her, "Well, are you okay? You're—you're alive—you're okay?" And she goes, "Yes." She goes, "We're all in lockdown." And, so, we left it at that—a real short conversation over the Internet, messaging each other. And it wasn't till…like about two or three months later, she texted me, and she goes, "Can we Zoom?" And—I didn't know what Zoom was. So, she goes, "I'll set it up for you, but you need to download the app, and it'll be free for us to visit over Zoom." So, she got ahold of me. We visited over Zoom, and come to find out, she had this Fulbright Award, Fellowship Award, and she was working with salmon skins. So…that's how I got into the really heavy-duty salmon skin stuff, and Zooming. And it looks like we—our time is going to be up pretty soon, so we should probably move to the next person.
[Donna:] All right, June—could we also ask that maybe you can adjust your camera so that we can see you?
[June:] Sure.
[Donna:] Your work is very beautiful, but we would also like to see you as well.
[June:] I'm kind of shy about that.
[Donna:] Okay! [laughs] Very nice to see [you]. So…in one of the things that I had read, there was a comment that you had said about making dolls out of the fish skin. Did you ever get a chance to make one of the dolls for yourself?
[June:] No, I didn't.
[Donna:] That sounds like that's a "too bad" thing—and it was interesting to me—I am someone that likes to sew, and that was something that was kind of important. I hope you get to someday.
[June:] I hope so, too. [laughs] Instead, I'm making a big garment for myself.
[Donna:] [laughs] That's true.
[June:] Yeah. Yeah, as a matter of fact, I have someone working on a 3D image of me, and they're going to put me inside a salmon skin garment.
[Donna:] Very fun, very fun…it's just so beautiful to see all of your work. So, if…
[Gail:] Okay, I'll go—I'm next here, so…as an Alutiiq/Sugpiaq artist, does the landscape have a special impact on your work? If so, what part of the landscape do you find yourself drawing from the most?
[June:] Well…with the landscape—I love the beach. And they can be long beaches, and then when you look out into the ocean, like when I'm at Nuniaq that's the original name for Old Harbor Village—when I'm at Nuniaq, and I look out towards Kaguyak…like, if I were to get in a kayak, and to venture out. I see the mountains, and, you know, Twoheaded Island, and out towards Barling Bay and Three Saints Bay, and…it's all layered, you now? Knowing that that was a passageway from Nuniaq to my other relatives. And then, also, the two aamaqlaqs behind our village. They were called aamaqlaqs because they look like aamaqs. And—
[Gail:] [laughs]
[June:] [laughs] Yeah—
[Gail:] I'm the only one that knows that meaning. [laughs]
[June:] Yeah—and so, those two mounds behind the village were beautiful, because they, you know, when I was a child and climbing up those hills, they were—especially in the early summer—everywhere we went while we were climbing up there, it had those beautiful pink shooting stars. And to this day, that is my favorite wildflower, is the shooting star—an always promise for new life.
[Amanda:] So it looks like we lost Madelyn—her phone died—so I'm going to be asking the next question: when you are creating a basket or designing a piece of beadwork, do you always use a specific design, or does the design come out as you are working? Do you plan ahead the design will create?
[June:] I did plan ahead the design that I was going to create when I made the grass socks for the Wells Fargo Museum, and I knew that they would—I knew that, after looking at grass socks at the Sheldon Jackson Museum, that I wanted them to be fitted, so that, whether I put one on my right foot or left foot, they were both the same size. And I knew that I was going to weave a band into them. There are other times, when I've picked up, you know, weaving, and just started weaving, not knowing what I—you know—what I was going to be making. As a matter of fact, I think I have something in my—real handy—in one of my bags here. I am working on something that I don't know how it's going to turn out. I don't know how it's going to end…because…I've been struggling with it, and I just keep throwing it back into this drawer over here…yeah, I keep throwing it back into the drawer…I got to do something with a lid, but I don't know if I want to add…open weaving to it, or not…you know, up on the top. I didn't know it was going to turn out like this. It just…did. [pause] All my baskets have my initial on them—woven into them.
[Sharon:] That's amazing, June, that you actually sign your work—we've known that there are very few Alaska Natives throughout history that have, and it is always…some of the most amazing pieces that we've found, you know, that actually, somebody signed it. So that's neat, that you weave it in. I want to be mindful of your time, so we—I don't know how long we had for the interview—was it only an hour? Because if so, we're coming up on 3 o'clock in about five minutes. So I just wanted to ask you what your timeframe was.
[June:] Well, my timeframe is—usually I like to keep it to an hour, because, you know, even as students, you have homework…end up having to write something about this and whatnot, so—
[Sharon:] Yes.
[June:] I don't want to tie people up too much longer, so—but if you feel like you have something very important that I haven't touched on yet, you can go on ahead and we can try to just, you know, zip through it as quickly as we can.
[Sharon:] Well, Gail—[…] would you [and Madelyn] like to go through and choose maybe just two final questions from the remaining list?
[Gail:] Okay, sure. Let me see. Madelyn, are you able to—I mean—add to this?
[Madelyn:] I—my phone died, and I was just able to reconnect, so I'm not really sure where we're at on the list, so maybe you want to take lead here?
[Gail:] Okay, yeah. We just ended with number 18. So—
[LaToya:] I have a question, Gail—is it okay if I ask a question?
[Gail:] Yeah—sure, go ahead.
[LaToya:] June, I saw that—through some of the articles and things that were written—that you were teaching classes during COVID online, and what have you. What were some of the things that you were teaching in the classes? I saw—I know I saw one that was dealing with salmon skin, but, where have you taught those, and how often were you teaching them?
[June:] Well, since COVID I've had over a hundred classes, online classes—just with salmon skin. And through the Knik Tribal Council, as their Elder artist, I've taught, not just the salmon skin tanning, but kakiwik making—that's the making the sewing bag—mittens…hat-making…baby booties…basket weaving, jewelry-making, and—most recently—with Southcentral Foundation's wellness department, traditional healing. We'll be making mittens this winter, and I think I have already had four classes with them. And I think I have six more coming up, so. I don't have room for teaching salmon skin tanning yet, because every month is filled with booked classes, through other organizations hiring me to teach their clients, all the way through March.
[Sharon:] Awesome.
[Gail:] Okay, so, I guess if someone would like to ask one last question? We have two more minutes.
[Sharon:] June, there was one on the bottom of our list that I think would be awesome to know, and that was: what was the most important message that you give to others regarding your artwork—specifically those who come to learn from you? Because you talked about, you give out a lot of information that isn't necessarily always recognized.
[June:] Yeah.
[Sharon:] So what's that most important message?
[June:] Well, I think the most important message is that we need to remain teachable. Because we don't know everything. Even as much as I've learned and taught, I don't know everything. To remain humble. And then also, to—because my focus has been to—in life, really, honestly—is to…to bring back to life the Sugpiaq way of artwork. You know, like, today, I'm the only Sugpiaq woman who can weave the grass socks. As far as I know, I'm the only Sugpiaq woman—the first Sugpiaq woman—and Jan Steinbright witnessed it and told me that I was. [laughs] She's good to know that I was the first Sugpiaq woman in 200 years to skin sew over a kayak with the waterproof stitch.
And what I want to do is…keep all of that alive, but then to pass it on to the next generation. So that we don't have what happened to us, during the years and reign of Russian fur traders—when all of that was stripped away from us: men became slaves, women became the providers—they could no longer skin sew, or bead, or weave clan baskets, you know, or room dividers, or socks…you know? And so, my message to—when I'm teaching—through our Native tribes and cultural…arts—through CITC, Southcentral Foundation, Knik Tribe, Alutiiq Museum—is for the younger generation…for the next generation, your age group, to learn it and to teach it to the next generation, so that it doesn't ever fall asleep again.
[Sharon:] That's beautiful—that's beautiful.
[June:] Also, give—always give honor to my Creator…[->57:22____________]…always give praise to my Creator. Because, you know, the word "Sugpiaq" means "real people," and there is a reason why we're—we call ourselves the "real people." We're the ones on this Earth walking; there is a spirit world out there, and we do have a Creator. And I would not be here without our Creator—I would not be Sugpiaq if He didn't say, "You are going to be Sugpiaq."
---
(Saying farewells to June and concluding the interview)
[Sharon:] Yes. That's beautiful. Gail, would you like to conclude for our group? And June, thank you so much for your time—it's been fascinating.
[Gail:] And it's a pleasure to meet you. I…yeah, and I want to thank you for your time and all the hard work you've done, trying to pass on the traditions to your and our people. So, I hope someday that I could stop by your studio, now that I know who you are and where your studio's at. So hopefully someday I get to meet you in person, too. So I want to thank you—quyana cakneq.
[June:] E quyana. Tang'rciqamken. Tang'rciqamci!
[Translation: Thank you (to Gail). Goodbye (to Gail). Goodbye (to the group)].
[Gail:] [laughs] All right, thank you.
[June:] Uh-huh, bye.
[Gail:] Bye.
---
---
Additional Resources
Alaska Native Heritage Center- June Pardue
Alutiiq Museum- June (Simeonoff) Pardue
Alutiiq Museum- June Pardue Collection
Facebook Page- June Pardue's Art
Facebook Page- June Pardue Studios
Koniag Artist Directory- June Pardue
---
BIBLIOGRAPHY
The Alutiiq Museum has released Pinguat, a 17-minute documentary film produced in collaboration with Josh Branstetter of Branstetter Films following the journey of 13 Alutiiq beaders who convened in Kodiak. Under the mentorship of June Pardue, the group recreated a rare set of women's ceremonial clothing—a beaded headdress, cuffs, and sash—collected on Kodiak in 1872.
Alutiiq Museum. (2020, November 9).
Pinguat
[Video]. Vimeo.
https://vimeo.com/403459516
.
Thirteen talented artists, a 148-year-old beaded headdress, and tons of cultural pride. Those are the ingredients of Pinguat—a short documentary film by Josh Branstetter and the Alutiiq Museum. It follows Alutiiq women as they recreate a headdress from 1872 and explore their culture. Pinguat is a documentary film directed by Joshua Albeza Branstetter in collaboration with the Alutiiq Museum, and with support from the Sun'aq Tribe of Kodiak, US Bureau of Indian Affairs, Musée Boulogne-sur-Mer, France, and Koniag, Inc.
Alutiiq Museum. (2008).
June Pardue
. Alutiiq Museum Collection of June Pardue.
https://alutiiqmuseum.org/june-pardue
.
Webpage displaying and itemizing pieces created by June Pardue that are owned by the Alutiiq Museum. Each piece is represented by an image and accompanied by a note on the materials used.
Press release for the Sheldon Jackson Museum Artifact of the Month in 2018, a contemporary Alutiiq headdress made by June (Simeonoff) Pardue (SJ2015-2-1). The headdress was purchased in 2015 with funding from the Rasmuson Foundation Art Acquisition Fund. The headdress features abalone shell buttons, .38 special empty shell casings, black common leather, glass beads, and bison bone. The crown of the headdress is made of black suede leather with round abalone shell buttons sewn on. Throughout the headdress, Pardue incorporated vibrantly colored beads in bronze, white, turquoise, red, and cobalt. The beaded portion that extends along the back side of the head features bison bone beads and bullet casings, which to Pardue are symbolic of her family's hunting practices and representative of the men in her family as "male role models and protectors of families—not only protectors from harm, but of a family's values, emotions, and spiritual wellbeing."
Announcement of the Sheldon Jackson Museum artist-in residence June Pardue's (Alutiiq/Sugpiaq) last residency presentation, her Artist Recap Talk. Explanation of the classes to be taught by June, June's background as a highly regarded traditional Sugpiaq weaver, and her experience with other traditional mediums including gut and fish skin.
Article describing June Pardue's history and inspiration for the headdress "Old Time Memories." The headdress displays rye grass and a glass beaded octopus. June's memories, including the snapping of grass for basket making, are worked into her headdress. June's work has been exhibited at the Alaska Native Heritage Center, the Smithsonian Institute (as a folk festival participant), the United Nations, N.Y., and in Milan, Italy.
June Pardue Studios. (n.d.).
Home
[Facebook page]
.
Facebook. Retrieved November 11, 2021, from
https://www.facebook.com/AlutiiqArt
.
This is the webpage for June Pardue Studios Facebook page.
Bibliography on June Pardue by the Alutiiq Museum and Archaeological Repository. Article outlines her origins from Old Harbor Village on Kodiak Island and recognizes June as an Alutiiq grass weaver, fish skin tanner, fish leather and sea mammal skin sewer, jeweler, and beader. During June's fifty year career as an artist, museums have collected her work; beaded headdresses, grass baskets and grass socks, jewelry, and Alutiiq garments are in permanent collections at the Alutiiq Museum, Palmer Historical Museum, Autry National Center in Los Angeles, Sheldon Jackson Museum in Sitka, the Arctic Studies Center in Maine, and at the Alaska Native Heritage Center in Anchorage, Alaska.
Palomino, E., & Pardue, J. (2021). Alutiiq Fish Skin Traditions: Connecting Communities in the COVID-19 Era.
Heritage
,
4
(4), 4249–4263. doi:10.3390/heritage4040234.
The article written by Elisa Palomino and June Pardue explores the Alutiiq traditions of fish skin in a digital age and during the COVID-19 isolation. The Alutiiq—the indigenous inhabitants of the coastal regions of Southwest Alaska—created garments made from fish skins (especially salmon) expertly sewn by women from Kodiak Island. Traditionally, Alutiiq education focused on acquiring survival skills: how to navigate the seas in all weathers, hunting, fishing, and tanning animal skins. Today, many Alutiiq people continue to provide for their families through subsistence fishing, honouring the ocean and navigating difficult times by listening to their collective wisdom. This paper describes the series of fish skin tanning workshops taught by June Pardue, an Alutiiq and Inupiaq artist from Kodiak Island, that connected participants in Alaska Native communities during the COVID-19 isolation months. Through an online platform, June passed on expert knowledge of the endangered Arctic fish skin craft, assisting participants in coping with the pandemic crisis by tapping into their knowledge of the natural world, cultural resourcefulness, storytelling abilities, and creative skills. Brought into the digital age, the fish skin workshops strengthened connections among Alutiiq and Alaskan craftspeople while establishing new connections with an expanded network of fashion designers, museum curators, conservators, and tanners. Finally, the paper highlights how fish skin Indigenous practices address the United Nations Sustainable Development Goals (SDGs) regarding poverty, health and well-being, gender equality, clean water and sanitation, decent work and economic growth, social inequality, responsible consumption and production, climate change, and maritime issues.
This video shows June Pardue weaving a pair of grass socks for the Alaska Heritage Museum at
Wells Fargo, Anchorage, AK.
Pardue, J. (2015, January 16).
Interview with fish skin sewer June Pardue
[Video]. Youtube. Retrieved November 11, 2021, from
https://www.youtube.com/watch?v=3GUf8Ao5vNY
.
This Youtube video interviews June Pardue regarding her skin sewing talents and techniques.
Pardue, J. (2019, June 14).
Alutiiq artist June Pardue explains gut skin processing at the Sheldon Jackson Museum
[Video]. Youtube.
https://www.youtube.com/watch?v=RK58i281M-o
.
Alaska Native artist June Pardue (Alutiiq) is shown in the Sheldon Jackson Museum gallery in this short video clip with her gut skin sewing class. The students learned how to fold and sew gut skin using an imitation gut. Pardue explains to her class in this short clip how the gut was traditionally processed.
Pardue, J. (2019, June 15).
Sheldon Jackson Museum Part I – June Pardue (Alutiiq) replicating one of our fish skin bags' loop stitching
[Video]. Youtube.
https://youtu.be/pwCce6xqfYA
.
Video showing how to replicate a looping two-colored stitch using gut, June Pardue's medium of choice. The stitch is exactly the same stitch used in one of the museum's Yup'ik fish skin sewing bags.
Pardue, J. (2019, June 15).
Sheldon Jackson Museum Part II – June Pardue (Alutiiq) replicating one of our fish skin bags' loop stitching
[Video]. Youtube.
https://www.youtube.com/watch?v=CVBCkIC3RHU
.
Part 2 of the video showing how to replicate a looping two-colored stitch using gut, June Pardue's medium of choice. The stitch is exactly the same stitch used in one of the museum's Yup'ik fish skin sewing bags.
Pardue, J. (2019, June 17).
Sheldon Jackson Museum Artist-in-residence June Pardue shares Alutiiq sewing terms
[Video]. Youtube.
https://www.youtube.com/watch?v=x_n0WcDYxJc
.
In this YouTube video, Sheldon Jackson Museum Artist-in-Residence, June Pardue, describes sewing tools in the Alutiiq language (Sugpiaq dialect).
Pardue, J. (2020, August 5).
June Pardue (Alutiiq/Sugpiaq) Fish Skin and Porcupine Quill Earring Making Class Part I
[Video]. Youtube.
https://www.youtube.com/watch?v=uvm6OMtylrM
.
Video of the Sheldon Jackson Museum's artist-in-residence June Pardue (Alutiiq/Sugpiaq) teaching how to make fish skin and porcupine quill earrings. This is the first of two videos on making these earrings.
Pardue, J. (2020, September 12).
June Pardue (Alutiiq/Sugpiaq) earring class – Part II – August 2020
[Video]. Youtube.
https://www.youtube.com/watch?v=ND0F_4YvWsQ
.
In this video, Sheldon Jackson Museum Alaska Native Artist-in-Residence June Pardue (Alutiiq/Sugpiaq) teaches the second part of her fish skin porcupine quill earring making class.
Pardue, J. (2020, October 2).
Artist-in-residence June Pardue (Alutiiq) artist talk on traditional sewing bags
[Video]. Youtube.
https://www.youtube.com/watch?v=6qhJYTL4Ddc
.
In this video, Sheldon Jackson Museum Artist-in-Residence June Pardue (Alutiiq) shares examples of sewing bags, including a sewing bag she made, as well as samples of her art inspired by the collection at the museum, and talks about traditional sewing bags and what is in her bag.
This Youtube video records an interview of June Pardue and her daughter Sofia Chya discussing their basket weaving, including crafting traditional grass socks. Alutiiq style weaving is a living tradition.
An article on the fish skin tanning workshop held at Palmer Junior Middle School for the community. Instructor June Pardue said she teaches a contemporary method of tanning that does not use urea. Students were local women from diverse backgrounds.
This article for the Sitka Fine Arts Camp gives background information on faculty. A short history of June Pardue's mother and father are given as inspiration for her current artistic talents.
Radio interview with June Pardue exploring the traditions of gut sewing to create rain gear in Alaska. Pardue explains her cultural history of gut sewing and how she first learned the art from her mother.
Article explaining June Pardue's Alutiiq history, her desire to carry on and revive her rich cultural history with fish tanning and the development of her tanning recipe. She inspires people to remain teachable.
Walker, R. A. (2009, September 24). The land of many welcomes: Exploring the 'alutiiq library' of Kodiak Island Alaska.
Indian Country Today
.
https://indiancountrytoday.com/archive/the-land-of-many-welcomes-2
.
This is the final article of a three-part series focused on three communities in southeast Alaska. In this edition the author explored Kodiak Island, Alaska. On this day, Alutiiq artist June Pardue exhibited a variety of works in the lobby of the Alutiiq Museum. She weaved many baskets, made out of beach rye grass or seal gut and willow. Museum staff carefully brought out an elaborate, elegant headdress Pardue made for her daughter's wedding. According to the museum, such headdresses, known by the Alutiiq as nacaq (na-chak), are "an important item of ceremonial regalia, worn at festivals for dancing, feasting and visiting. Women's headdresses were typically made from hundreds of glass beads strung on sinew and embellished with feathers colored with cranberry or blueberry juice. Strands of small beads were tied into a tight fitting cap with many dangling lengths attached to the sides and the back. These attachments often featured larger, heavier beads that swayed, glittered and jingled as the wearer moved." Pardue's headdress is no less astonishing in its beauty and craftsmanship. She learned to weave from her mother, who had learned from master weaver Fedosia Inga. It turned out to be a valuable inheritance. Pardue was born in Old Harbor Village on Kodiak Island. In 1964, the village was wiped away by the Good Friday earthquake and tsunami. The family moved to a bathhouse, or maqiwik, and stored their food in the school basement. When the food was destroyed by water, Pardue's mother told the children that they had to work on their crafts, because that was how they would make money to survive. So Pardue did, at age 14.
This article explores the promotion of sustainability in the fashion industry by designer Elisa Palomino-Perez, who is embracing the traditional Indigenous practice of crafting with fish leather. The article explores the history of using fish leather as a fabric material due to the abundance of fish as a resource. Indigenous groups living on coasts and rivers from Alaska to Scandinavia to Asia have used fish leather for centuries. Article mentions Alaskan elders, specifically June Pardue, in preserving the heritage of fish skin crafting, and Palomino-Perez hopes to make fish skin crafting a sustainable industry in fashion design.